Advanced oils & cold wax - 3 day workshop in Coverack, Cornwall: 25-27 April 2023
$308.00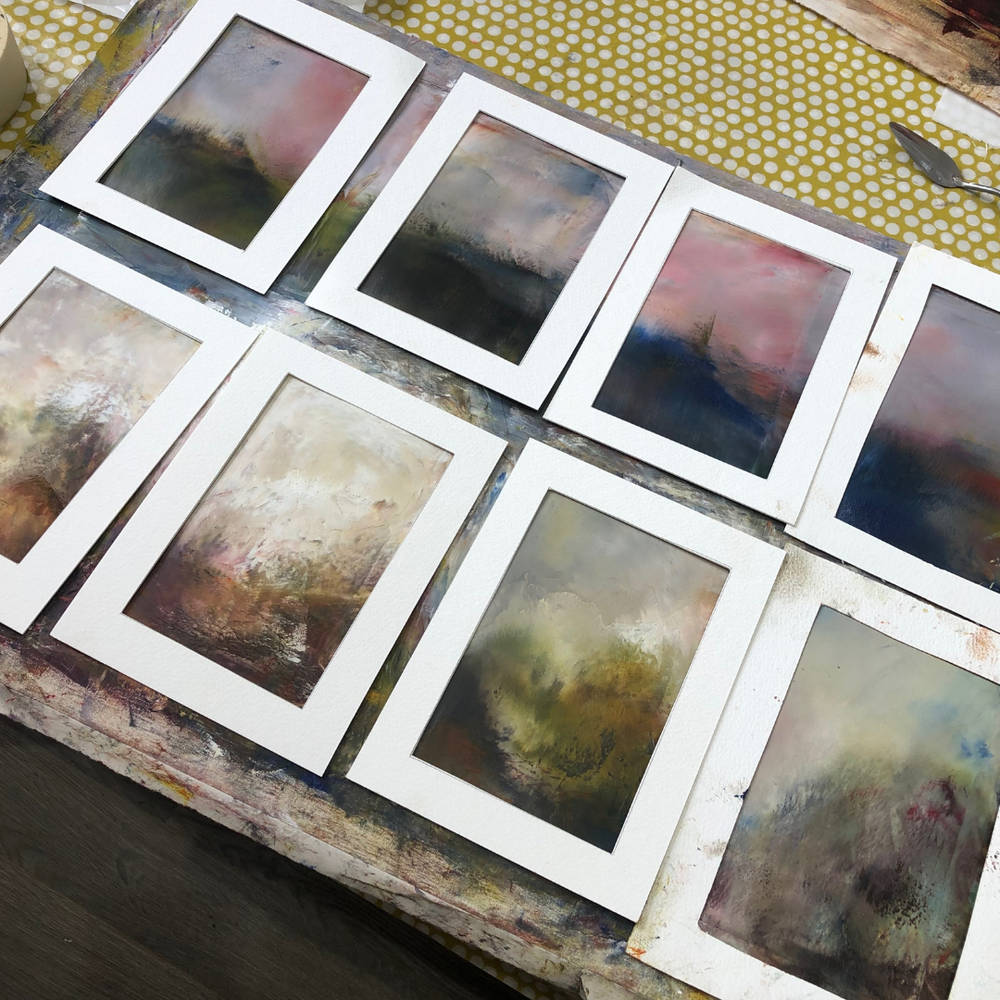 Product Description
UPDATE: this workshop is now full but if you would like to be considered for the 2024 workshops then contact me.
I am really excited to be returning to Cornwall in 2023 to run workshops. I had such a wonderful time in this beautiful village in April 2022, and the group who attended my workshops produced some amazing work. 
We had a lovely few days painting and socialising, making new friends and exploring this beautiful part of Cornwall so if you fancy joining me then I have two workshops to offer, this 3-day advanced oils and cold wax workshop and a 2-day workshop exploring oils and cold wax.
What will be covered?
In this experimental 3-day course in Coverack, Cornwall we will build on your existing knowledge and focus on advanced techniques such as solvent pours, glazes, blending as well as covering technical aspects relating to tools, surfaces, colour, values, textures, shapes and composition.
Over the three days we will work on a series of paintings, working intuitively and letting our work evolve. The workshop will include information about techniques, as well as demonstrations and plenty of time for dedicated and focused painting and individual support.
Working wet-on-wet
Using transparent and opaque colours
Creating textures and lines using a variety of tools and techniques
Incorporating pigments and other loose powders into your work
Blending techniques
Understanding drying times
Building layers of colour
Solvent reduction techniques
Pigment sticks and oil bars
Using glazes
Problem-solving compositions
Different surfaces / supports
Exploring colour, value and contrast
Creating expressive marks
Solvent pours
Masking and stencilling techniques
Transfer techniques
Making transfer papers
Working on a series
Timings
Tuesday 25 to Thursday 27 April 2023, from 10 am until 4 pm with an hour for lunch.
Do I have the experience?
If you have attended one of my 1-day or 2-day workshops then this is the perfect next step workshop for you. If not then ideally you should have some basic understanding of working with oils and cold wax. If in doubt then just get in touch and we will advise you as to which workshop would be best for you.
What shall I bring with me?
All materials and use of tools are covered in the price of the workshop. Wear some old clothes or bring an apron or old shirt to protect your clothes.
Please bring a packed lunch with you.
Where is the workshop being held?
This workshop will be held at Lambeage Hall in the beautiful village of Coverack, South West Cornwall. The hall is situated right on the coast and has some of the most fantastic views and is also within walking distance of the local pub for our post workshop debriefs!
In 2022 we had people travel from across the UK to attend the workshop and made a holiday of it. There is plenty of accommodation in the village and surrounding area including a campsite above the village.
Travelling to Coverack
There are train services to Penzance, Cornwall and an extensive network of bus services with frequent connections from Penzance.

If you are travelling by car there is a car park as you come into the village which is about 10 minutes walk to Lambeage Hall.
The hall itself only has disabled parking available and accessibility to the isn't great as there is a set of steps to go down to get to the hall.
The legal stuff
The cost of the workshop includes a £20 non-refundable booking fee.
Refunds can be requested up to one month before the workshop and will be processed (minus the booking fee) within 14 days.
If I find that I cannot run the course as scheduled because of COVID or similar crazy world stuff then I will look to reschedule but will also offer you the option to refund your booking payment.